Back
Exhibition "François Diana un coloriste engagé"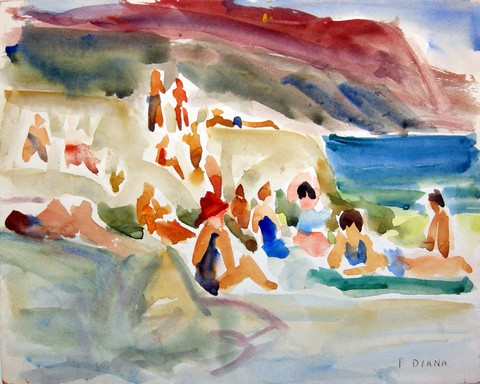 From June 23 to September 29, discover an original work where the color expresses itself in a brilliant style
The City of Cassis is organizing a new exhibition presented at the Mediterranean Municipal Museum of Popular Arts and Traditions of Cassis and entitled "François DIANA a committed colorist".
The museum offers a retrospective of the works of François Diana to discover or rediscover the world of the painter. Some sixty works will be exhibited. It will be an opportunity to observe an original work whose color express themselves in a brilliant style.
Always in the footsteps of many Provencal artists who have sublimated the Provencal style of the early 20th century, this exhibition honors François DIANA, born on November 6th, 1903 in Marseille and died in the same city in 1993.
Pupil of the Ecole des Beaux-Arts in Marseille, he became part of the movement of proletarian painters. After the war, he became a teacher at the same school and divided his time between teaching and his workshop at the Quai de Rive Neuve. His painting with vibrant tones, shimmering and sometimes militant, is inspired by Provence and Marseille which he excels at capturing the essence, light and atmosphere.
The exhibition is open to the public from Saturday, June 23th, 2018 to September 29th, 2018, at the Museum (04 42 18 36 78), place Baragnon, from Wednesday to Saturday from 10:00am to 12:30am and from 2:00pm to 6:00pm. Opening on Saturday, June 23rd at 11am.