Back
Jazz on the rooftop - Jazz sur le toit in Cassis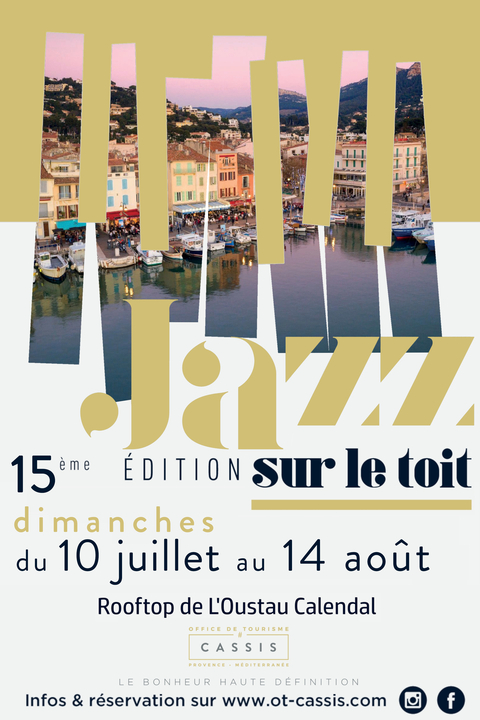 Sundays from July 10 to August 14
Jazz evenings on the roof
Rooftop of the Oustau Calendal
Come to the Oustau Calendal's terrace, between the sea and the port, to listen to the greatest jazz performers.
Vibrate to the sounds of a quality programme, while enjoying glasses of Cassis wine (to be consumed in moderation) and gourmet dishes (reservation required).
Concert + gourmet plate : 31€ (drinks, coffee and dessert in plus)
Reservation required at the Tourist Office, on the website, at the desk or on the phone 0442013506

NO STANDING SPACE

NO SEATS

WITHOUT MEAL
PLEASE INDICATE IN THE COMMENTS YOUR PREFERENCES FOR THE LOCATION
PLEASE INDICATE IN YOUR COMMENTS IF YOU ARE SHARING A TABLE WITH OTHER GUESTS WHO HAVE MADE A RESERVATION:


The programme

Sunday 31 July : "We welcome the Tenderly quartet made up of : Nicolas De Martino tenor sax, Bastien Pallavicini Piano, Jean Marie Pallavicini Bass and Claude Malet on drums. In short, the jazz that we love, easy-going and festive."
CATERER : OLIVIER TRAITEUR
Oriental Pita
Olive and parmesan cake
Octopus salad
Bagnat
Country cheese
RESERVATION FOR CONCERT AND MEAL
Sunday 07 August : "This evening will be dedicated to the swing musette of post-war France with the accordionist Jo Labita".
CATERER : OLIVIER TRAITEUR
Country terrine
Pissaladière
Tomato burrata pistou
Foccacia Italian style
Country goat cheese with cardamom
RESERVATION FOR CONCERT AND MEAL
Sunday 14th August : "Last evening of this fifteenth edition with a Latin-Jazz evening with trumpet player José CAPARROS.
CATERER : OLIVIER TRAITEUR
Chiffonnade of mortadella with truffles
Fougasse à la Provençale
Prawns and fennel with citrus fruits
Fresh salmon club
Saint Nectaire cheese
RESERVATION FOR CONCERT AND MEAL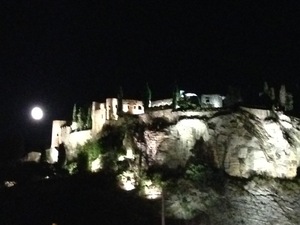 As the concert takes place outdoors, the organiser reserves the right to move the concert to an indoor venue in the congress centre or to cancel the evening in case of bad weather.
There will be no refund if the concert is moved indoors.
Price
31 EUR package entry + gourmet plate (without drinks)

All drinks, coffee, desserts and other items not mentioned in the above menus will be charged separately.

Children up to and including 10 years old are free (without meal - place to be booked via the central reservation office)
Placement
subject to availability, reservation recommended
seating and shared table
tables of 4 will be shared with other guests
tables of 6 people maximum
unnumbered seats
Opening hours
Entrance from 7 pm.
The evening starts at 7:30 pm.
After 8pm, reserved tables will be released.
End at 10:30 pm
Parking
No parking on site
The car park of the Oustau Calendal will not be accessible.
Recommended car parks: Gorguettes (then shuttle bus to the centre), Mimosa, Viguerie, Villa Madie