Back
Race Marseille - Cassis 20 km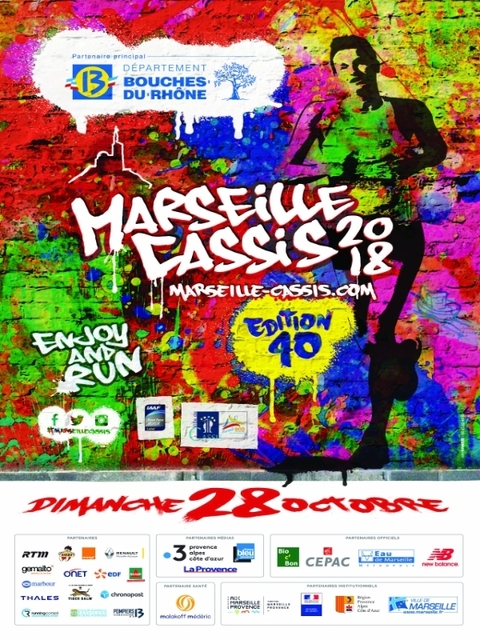 The details... this 40th edition!
The Marseille-Cassis race 20 km
Sunday, October 28
* Departure: Marseille - 9am - Bd Michelet.

Access to departure only by Raymond Teisseire Street - Metro Line 2 - Ste Marguerite / Dromel

(No access will be possible through the Prado roundabout or any other place).

Departure by waves: information on the Marseille Cassis (marseille-cassis.com/fr/ course/infos-pratiques)
ATTENTION: last year for safety reasons, the arrival of the race took place avenue des ALbizzi. Following the many positive returns, the arrival is sustainable Avenue des Albizzi.
New of this 40th edition of Marseille-Cassis
Arrival on Albizzi Avenue (approximately halfway down the avenue, at the side of the alley),

Change of route on the last 3 kilometers (see map ).
Distance : 20 km homologated

Award ceremony for the first 3 men and women, avenue des Albizzi.

Results and other rewards: from 2.30 pm on the Esplanade de Gaulle.

Recovery of the "Finisher" medal, general refueling and recovery of locker bags on Foch Avenue.
ATTENTION : To take the bus, it is obligatory to present the ticket given during the withdrawal of T-shirts which will be done on Friday, October 26th between 10am and on Saturday, October 27 from 9am to 8pm at the Expo Village located at Parc Chanot (Palais de l'Europe - Hall 8) - Marseille.
link Cassis - Marseille
Departure of Foch Avenue coaches and Gorguettes car park: between 5.30 am and 7.45 am

Deposited at Marseilles at the corner of Ave. Cantini and bd Rabatau.



Return to Marseille and Aubagne by bus from Avenue Foch: continuous between 12h and 15h then every 30 min until 18h

possible return in TER (information on www.marseille-cassis.com).

Return ticket offered by the Aix-Marseille Provence metropolis and the RTM
ATTENTION : the information may change (see Marseille Cassis website: www.marseille-cassis.com )
parking
OPEN PARKING

Parkings Mimosas, Daudet, de la Madie, and Bestouan.
Parking Gorguettes :

reserved for runners.
ATTENTION: the car park will be closed on Sunday, October 28th between 8am and 2pm. No vehicle will be able to leave it.
Arrival the day before and the morning before 8:15. Departure after the end of the race and with the authorization of the police.
Route de Carnoux (portion between Carnoux and Le Messuguet): From 9 am, the parking of spectator vehicles will be tolerated only on the sides. Any vehicle on the central axis will be verbalized and removed.
CLOSED PARKING
Parking de la Poste and parking Gilbert Savon

from Wednesday 24 to 17h to Sunday 28 at midnight

Parking Viguerie : Sunday, October 28th.
COURSE OF THE RACE
more information : course Marseille Cassis
from Friday 26th, 10pm to Sunday 28, 6pm: parking prohibition chemin du Plan d'Olive, av. from the station, av. of Albizzi and road of Marseille (RD 559)
from friday 26, 10pm to sunday 28, 6:30am: traffic with filtering control avenue des Albizzi
from saturday 27, 6pm to sunday 28, 6:30am: circulation with filtering of control route of the plane of olive and avenue of the station
sunday 28 from 6.30am to 3pm: traffic prohibited chemin du plan d'Olive, av. from the station, av. of Albizzi and road of Marseille (RD 559)
Sunday 28 from 3pm to 6pm: reopening gradually with filtering control Olive Plan Road, Avenue de la Gare Avenue Albizzi and Road Marseille (RD 559)
Sunday 28th from 8:15am to 4pm: traffic ban Carnoux road (RD41E) portion between Messuguet (included) and Gineste
Sunday 28 from 6am to 4pm: closed Gineste road. AVENUE FOCH
from Friday 26 midnight to Sunday 28, 5pm: parking ban
Sunday 28 from 6h to 18h: traffic ban. Then reopening gradually
OTHER CHANGES
Friday 26th from 8am to 4pm: Chemin du Perthus in one direction (Avenue des Albizzi towards av E. Bodin)
Friday 26th from 8am to 5pm: Chemin du Bérard in one direction (Avenue des Albizzi towards av E. Bodin)
NEW THIS YEAR
The little train will be put at the disposal of the runners to go down in the village (and go up) between 8h30 and 16h.

Departure: Avenue angle J. Liautaud, A. Favier and J. Ferry - Terminus: Casino roundabout (Leriche Avenue).

All these provisions may be reconsidered depending on the course of the race or the circumstances, at the initiative of the competent authorities.
Enter / Exit Cassis
From Marseille:

- Highway exit 6 CARNOUX EN PROVENCE closed the 28/10/2017 from 05:30am to 1pm + closed CASSIS access

- Highway exit n ° 7 LA BEDOULE open on October 28th, 2017 + departmental road of La Bédoule in Cassis closed from 06h00 to 15h00 (AX for the FIREFIGHTERS)

From Toulon:

- Exit of highway n ° 8 CASSIS closed the 28/10/2017 from 05:30am to 3pm + access from the rond point of Bellefille towards Cassis closed as of 05h30


Entry into Cassis
By the road Pierre Imbert until the old road of Ceyreste then The janots until the avenue of Provence.
Only for Cassidens and on presentation to filtering, the registration of the vehicle domiciled in Cassis or a proof of address on Cassis or on presentation of a restaurant or hotel reservation.
Sortie de Cassis
Avenue de Provence, chemin de Saint Joseph, route des Crêtes AND THEN route P. Imbert.
As these routes are the only means of entry and exit, we advise you to move only in case of imperative so as not to clog these roads. We thank you for your understanding for the inconvenience.
Being two months away from the event, changes are likely to occur: More information : www.cassis.fr or 04 42 01 17 17