SPECIAL FLASH - SEASON 2020
The Compagnie du Ponant (Marseilles shipowner) is authorized to return to sea from 07/11/2020 with domestic cruises and to French and French-speaking customers (Switzerland, Belgium...) and on the theme "France is beautiful from the sea".

5 of its ships will depart from 5 French ports (Marseille, Nice, Le Havre, Bordeaux and St Malo) for a discovery of the French coastal regions. With a limited capacity of + or - 150 passengers in compliance with the health charter set up by the company, it is rather about fifty passengers who will be on board on the first dates.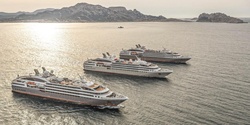 The cruise departing from Marseille (Mediterranean Coastal Heritage) on board the ship L'Austral, will stop in the harbour of Cassis for a whole day on Mondays:
- 13 and 27 July 2020
- 10 and 24 August, 2020

During these stopovers, passengers will discover the Calanques National Park on the occasion of: a morning hike, a 5-calanques cruise in the afternoon and an aperitif-bath in the evening ...
A welcome desk at the quay will be provided to offer plans to passengers disembarking in the village.
The ship will weigh anchor around 11pm/12pm.
---
- STOPOVER IN THE BAY - SEASON 2020 :
- 13th JULY 2020 : Stopover of the "Austral" belong to the PONANT company
> Capacity of the ship : 46 passengers on board & 141 members of crew

- 27th JULY 2020 : Stopover of the "Austral" belong to the PONANT company
> Capacity of the ship : 57 passengers on board & 140 members of crew

- 10th AUGUST 2020 : Stopover of the "Austral" belong to the PONANT company
> Capacity of the ship : 80 passengers on board & 115 members of crew

- 24th AUGUST 2020 : Stopover of the "Austral" belong to the PONANT company
> Capacity of the ship : 65 passengers on board & 115 members of crew

- STOPOVER IN THE BAY - SEASON 2021 :
- 30th APRIL 2021 : Stopover of the "Sea Cloud II" belong to the SEA CLOUD company
> Capacity of the ship : 100 passengers on board & 85 members of crew

- 5th MAY 2021 : Stopover of the "World Voyager" belong to the MYSTIC CRUISES company
> Capacity of the ship : 180 passengers on board & 70 members of crew

- 6th MAY 2021 : Stopover of the "Sea Cloud Spirit" belong to the SEA CLOUD company
> Capacity of the ship : 130 passengers on board & 85 members of crew

- 28th JULY 2021 : Stopover of the "Caledonian Sky" belong to the NOBLE CALEDONIA company
> Capacity of the ship : 100 passengers on board & 90 members of crew

- 2nd NOVEMBER 2021 : Stopover of the "SeaDream II" belong to the SEADREAM YACHT CLUB company
> Capacity of the ship : 100 passengers on board & 90 members of crew

- 4th NOVEMBER 2021 : Stopover of the "SeaDream I" belong to the SEADREAM YACHT CLUB company
> Capacity of the ship : 100 passengers on board & 90 members of crew


- STOPOVER IN THE BAY - SEASON 2022 :

- 7th MAY 2022 : Stopover of the "SeaDream I" belong to the SEADREAM YACHT CLUB company
> Capacity of the ship : 100 passengers on board & 90 members of crew

- 19-20th MAY 2022 : Stopover of the "SeaDream I" belong to the SEADREAM YACHT CLUB company
> Capacity of the ship : 100 passengers on board & 90 members of crew

- 24th MAY 2022 : Stopover of the "SeaDream I" belong to the SEADREAM YACHT CLUB company
> Capacity of the ship : 100 passengers on board & 90 members of crew

- 18th OCTOBER 2022 : Stopover of the "SeaDream II" belong to the SEADREAM YACHT CLUB company
> Capacity of the ship : 100 passengers on board & 90 members of crew

#stopoverincassis #bayofCassis #cassis #cassisprovence #cassis #cruisepassengers #yacht #yachtdeluxe #cruisespirit