Getting to Cassis
les Gorguettes park and ride car park - park smart for free

Car hire
SARL MH GARAGE and scooter hire
4 Avenue Jules Ferry

Car Parks

Pay & Display Car Parks
La Viguerie covered car park (30 min on foot from Port-Miou)
Les Mimosas covered car park (Tourist all-in rates and 'résaplace' booking system - 35 min on foot from Port-Miou)
La Poste car park (35 min on foot from Port-Miou)
La Madie car park (40 min on foot from Port-Miou)
Daudet car park (30 min on foot from Port-Miou)
Le Bestouan car park (15 min on foot from Port-Miou)
Savon car park (35 min on foot from Port-Miou)
La Presqu'île car park (paying during high season - 10 min on foot from Port-Miou)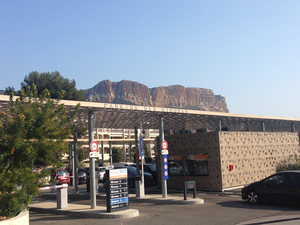 For information on car parks and booking :
phone +33 (0) 4 42 08 30 48
Access and Connections

By car
800 km from Paris (7hrs30)
340 km from Lyon (3hrs20)
430 km from Toulouse (4hrs20)
670 km from Bordeaux (6hrs)
490 km from Geneva (4hrs45)
520 km from Milan (5hrs30)
1,000 km from Munich
1,100 km from Brussels and Madrid

From the A50, exit No. 6 Carnoux-en-Provence, No. 7 la Ciotat or No.8 to Cassis

By plane
Marseille Provence Airport

Then by bus or train to Marseille St Charles railway station: every 20 minutes, then regional express train to Cassis


Train and bus

By train
Self-service SNCF ticket machine at Cassis Tourist Office
TGV trains to Marseille:
Paris (3hrs20), Lille, Strasbourg, Rennes, Nantes, Bordeaux, Brussels, Frankfurt, Geneva, Barcelona, Milan…
Regular Marseille-Cassis service:
Daily, approximately every 30 minutes (25-minute trip).
The station is 3.5 km from the town centre.
Opening hours of the train station :
Tuesday and Thursday: 7.00am to 12.00pm and 1.00pm to 3.00pm
Saturday: 1.45 pm to 4 pm

Trains for the matches schedules

By bus
Bus from Marseille (Castellane – Cassis /town centre) every day every 45 minutes
Line 78
Bus Aubagne - Carnoux – Cassis every day
Line 68
Bus Marseille - Aubagne - La Ciotat every day
Line 69
Bus La Ciotat - Cassis - Carnoux en Provence every day (school)
Line M5

Getting around in Cassis

Bus
from the Railway Station to the Town Centre.
10 to 15-minute trip
ADDITIONAL SHUTTLES
Departure: Cassis train station
Dates: 9 and 21 September and 1 October
These buses will connect with trains departing from Marseille at 00:32, 01:02 and 01:32.
Shuttle from Relais des Gorguettes car park
(Only for individuals)Schedule
(Only for Groups)MORE INFORMATION

Navette to le Brégadan : CASSIS Casino - GARE SNCF train station - Le BREGADAN

Taxis
The Taxis Cassidains are at your disposal for all types of trips. They can also propose tours so you can discover the charms of the region: visit of the Calanques, the village of Castellet, an outing to Marseille, the vineyards of Cassis…

Find out more